How to maintain breastfeeding (a psychologist's perspective)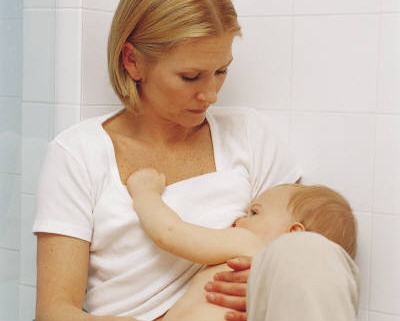 Many women choose to breastfeed their baby and want to maintain breastfeeding for a specific length of time.  Yet, many women also fall short of their own personal goals around breastfeeding or find themselves struggling with breastfeeding at some point.  I'd like to share my advice, as a psychologist and as a breastfeeding mother, on how you can increase your chances of maintaining breastfeeding and reach your personal goals.  To reach your personal breastfeeding goals:
Understand the values underlying your decision to breastfeed.  Why do you want to breastfeed?  Is your main concern the health benefits for your child?  The health benefits for you? The opportunity for special bonding time together? Understanding your values is important because it will enable you to be flexible if your nursing relationship doesn't go according to plan. You can also remind yourself of your values when breastfeeding is challenging and this can give you the strength to get through the difficult times.
Arm yourself with accurate information about breastfeeding.  Make sure you understand not just how to establish breastfeeding but how breastfeeding is maintained over time (in a nutshell demand=supply; chant this until it sinks in!).  Make sure that you know all of your options if things don't go smoothly, for example; expressing breast milk and feeding it to your baby from a bottle, increasing milk supply with frequent feeds, using a supplementary nursing system give your baby complimentary expressed breast milk or formula directly from the breast, or using a nipple shield.  Know where to go for accurate advice if needed, for example, mother-led breastfeeding support organisations (e.g. Australian Breastfeeding Association or La Leche League) or a Lactation Consultant.  Put their contact details within easy reach and plan to use them.
Find ways to enjoy breastfeeding!  I cannot emphasise this enough.  As a psychologist, I know that behaviour maintenance isn't a matter of will power, it is all about natural reinforcement.  If you find a particular activity enjoyable and rewarding (if you get plenty of natural reinforcement for doing it) then you'll keep doing it.  What's enjoyable for one mother isn't for another so this is something you need to experiment with.  For example, you might like to make the time that you spend nursing enjoyable and relaxing by using this time to watch a favourite show, or read a book, or surf the internet.  Often mothers feel the competing pressure of a long to-do list. Consider using breastfeeding as the ultimate excuse to discover a more relaxed and easy going lifestyle.  Find ways to enjoy your nursing breaks.
Discover what suits you and your baby. Breastfeeding happens in a relationship and every relationship is unique. Put any and every rule about breastfeeding aside and allow yourself to discover what works in your relationship. This will also help you to discover how breastfeeding is enjoyable for you. For example, some women feel pressured to follow the rule, 'never breastfeed your baby to sleep'.  However, many women find breastfeeding their baby to sleep convenient, enjoyable and deeply rewarding!  If you are a mother who enjoys breastfeeding her baby to sleep then continuing to do so, when it suits you and your baby, is an easy way to ensure that you keep breastfeeding.
Breastfeeding for comfort is not only perfectly normal baby and toddler behaviour, it also maintains good milk supply.  Mothers can feel pressured to eliminate comfort feeds to foster the habit of self-soothing.  Yet, it is perfectly normal for babies and toddlers to seek emotional comfort from a breastfeed.  In terms of a toddler's emotional development, there is no difference between a toddler enjoying a comfort feed and a toddler sucking his thumb for comfort. Many mothers find comfort feeding enjoyable themselves and many mothers find it more convenient to give comfort feeds than to encourage early self-soothing!  Giving your child emotional comfort, whether you are doing so with a breastfeed or with a cuddle, will promote not discourage their future independence.  Feel free to give comfort feeds for as long as you desire and as often as you desire.  Again, the key is to do what works for you and your child.
Finally, mothers don't always meet their own personal breastfeeding goals.  This may happen no matter what you do.  It is also common to feel sad when breastfeeding ends even if you did meet your personal goals.  At the end of the nursing relationship, return to the values that made breastfeeding important to you to begin with.  Was breastfeeding about being a loving, affectionate mother? Or about taking care of your child's long-term physical health? Or about having special bonding time with your child?  There are many ways that a mother can live these values, whether she is breastfeeding or not.
Apply it to your life: Do you have personal goals around breastfeeding?  What values underlie your breastfeeding goals? Have you thought about how you are going to maintain breastfeeding?
https://www.koawhittingham.com/wp-content/uploads/2013/05/MP900308946.jpg
600
400
Koa
Koa
2013-05-12 08:11:16
2015-09-30 12:34:14
How to maintain breastfeeding (a psychologist's perspective)