You are here:
Home
1
/
Becoming Mum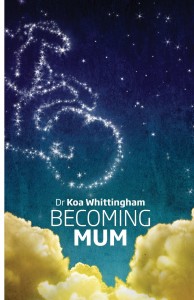 Becoming Mum is a truly unique self-help book.  I wrote Becoming Mum to support women, all women, through the psychological passage to motherhood, empowering women to become the kind of mother they wish to be. Becoming Mum is grounded in the latest science including acceptance and commitment therapy, attachment theory and research on compassion, mindfulness and living a rewarding, active life.  I wrote Becoming Mum while on maternity leave with my first child.  Most of the content of the book was literally written while cuddling my baby and this gives Becoming Mum a uniquely sincere feel.
Becoming Mum encourages women to enjoy motherhood and builds each woman's self-confidence as a mother by helping her to discover—and live by—her unique mothering values.  Further, Becoming Mum liberates mothers from the dual pressures of self-doubt and criticism from others, empowering every mother to parent her child in the way that she feels is best for her own unique baby.  I wrote Becoming Mum in a flexible style that is easily adapted to each woman's individual circumstances. Within the book, guidance is provided in how to adapt the practical strategies to specific challenges including miscarriage, postnatal depression and preterm birth.
Through reading Becoming Mum you'll discover:
your unique parenting values, and how to harness these to become a confident and happy mother
how to use mindfulness and acceptance to create a loving bond with your baby and support your baby's emotional development
techniques for coping with criticism, unhelpful advice, distressing emotions and physical pain
how to keep your romantic relationship healthy and your support network strong
flexible, step by step strategies for facing major challenges that can be adapted to your personal circumstances
Mums deserve psychological support that is non-judgmental, empowering and liberating – support that is grounded in each woman's values and easily adaptable to each woman's circumstances and now they can find that support in Becoming Mum.  Become the mum that you want to be!