You are here:
Home
1
/
Acceptance and Commitment Therapy: The clinician's guide for par...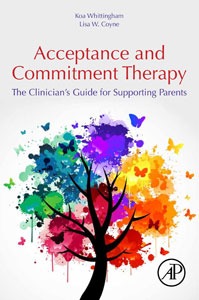 I wrote Acceptance and Commitment Therapy the Clinician's Guide for Supporting Parents with the wonderful Lisa Coyne.  It is a principles-based guide for clinicians to support parents across various stages of child and adolescent development.
In writing this book, our approach was to write the clinical manual that we wanted for ourselves. It is not a mere re-packaging of ACT concepts and exercises that exist elsewhere for working with parents. Instead, we went back to the existing parenting literature, integrated ACT and RFT with evolution science, behaviour analysis, attachment theory, emotion-focused and compassion-focused therapies into a cohesive framework and developed a novel, integrative approach.
This is a book jam-packed with new material including our new model—the parent-child hexaflex—as well as new experiential exercises, techniques, metaphors and meditations, entirely consistent with the ACT approach but never presented to the ACT community before. The principles and techniques are explored in depth with multiple clinical case studies.
Key features
Explores the integration of ACT with established parenting approaches
Includes a new model—the parent-child hexaflex—and explores each component of this model in depth with clinical techniques and a case study
Emphasizes how to foster a strong therapeutic relationship and case conceptualisation from an acceptance and commitment therapy perspective
Covers the full spectrum of child development from infancy to adolescence
Touches upon diverse clinical presentations including child anxiety, neurodevelopmental disorders, and child disruptive behaviour problems
Addresses how best to support parents with mental health concerns, such as postnatal depression
Is relevant for both novices and clinicians, students in psychological, social work and educational professionals supporting parents